1. Petition by WIAP AG-Ltd-SA -
Energy efficiency More than 400 x less energy Consumption at 12 tons component.
submitted petition on 24.4.2019 to the Swiss Federal Council and the Federal Assembly via the office
3. Petitioneingangs Bestätigung 20190516
We ask the united Federal Assembly to do everything in its power to ensure that this topic is not postponed.
Recently, someone called RUAG (Swiss Federal Enterprise) and wanted to do a test. But RUAG internally other people have said: No, we stick to the old system. So so no energy can be saved.
It needs the words of everyone: "I want!"

Thanks for your efforts.

Greetings from the Wiap team
at/ iw/ sw/ jw/ hp
Introduction:

Many talk about saving energy. But are we doing everything that is possible? There are even more options. For example, Germany makes a large amount of energy with combustible energy. Switzerland also with about 40% nuclear power. Why not save, if there are still new possibilities. Here's an example:
In industry it is common for welded parts to be placed in an oven for further processing, because of problems with distortion, and to be heated to approximately 500 to 600 degrees for normal steel. The rule says that for every 20 mm of thickness, keep the temperature in the oven for one hour. Depending on the design, such parts often need to be in the oven for 2 days to 1 week and more. Such an annealing furnace can be imagined as an oven. The workpieces are kept at the high temperature in the oven. The heating up we should cool down slowly, otherwise tensions come back into the workpiece. These stresses must be removed so that these workpieces do not warp during further processing, which causes a large loss of accuracy. This process requires a lot of energy. Against this energy expenditure, we have a solution that allows, instead of heating a workpiece, to relax with vibration. We call this today MEMV (metal relax with vibration) method, so that the same goal can be achieved. However, the energy savings are enormous. With a 12-tonne roller, it takes exactly 460x less energy to achieve the same result.
WIAP AG-Ltd-SA from Switzerland has been relaxing metal with vibration for many years. An intensive study was started in 2014, so that even better results can be achieved with new, improved methods. During this time, 3 patent applications were made, which deal with metal relaxation with vibration rather than low-stress annealing. Hundreds of hours of measurements were taken during the relaxation process.

Many companies already know it today. Many know it, know that such a thing is possible, but especially companies that want high precision, are not bad at all, that it does not apply all, because there are also very big competitive advantages. The defense industry knows that if the pipes need to be highly accurate, they will only remain accurate if vibrated before finishing. And vibrating takes almost no energy, because the workpieces are brought to vibration in a self-resonance, which then makes the major part of the excitation by the natural vibration. Not only the defense industry should benefit from the knowledge, but also the whole industry and thus the whole population, because it saves a lot of energy. That's one reason why we're submitting this petition.

The industry has had expensive annealing furnaces for decades and, to amortize them, they also do a lot of contract work. Arguing that their stoves are being used to capacity, wasting a plethora of energy, which could be saved with a modern method of change, which would do the environment very well.
We request and ask the legislation:

There should be a national and international requirement that the stress-relieving annealing should only be used where vibration relaxation is not possible.

Reason:

A 12,000 kg roller requires 937kw / h for the low-stress annealing
A 12 000 kg roller vibration relaxation requires 2 KW / h. So 468 x less energy.

See Photo Info section.
<![if !vml]>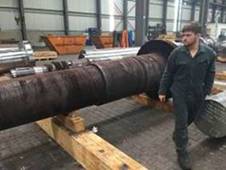 <![endif]> <![if !vml]>
<![endif]>
An annealed roller, which has tinder This roller is not annealed but only vibrates.
on the outer skin, that is this black Requires 2 KW/h.
external fire, requires 935 KW/h.
<![if !vml]>
<![endif]> <![if !vml]>
<![endif]>
These pipes were flame-directed, These tubes were relaxed with vibration instead
then annealed stress-relieved. of annealed. Interestingly, the result is even better
than stress relieved.


More detail information see.
Petition WIAP
A petititon can be made also politically something to stimulate
The WIAP submits a petition to reduce CO 2 emissions