P1: WIAP centering machine. Manufactured at the former license partner WEMA Zerbst.
P2: View into the engine room. A special vise to clamp around pipes; diameters from 70 mm to 200 mm.
P3: 2 headstocks, moved in the Z - axis. The engine installed in the headstock.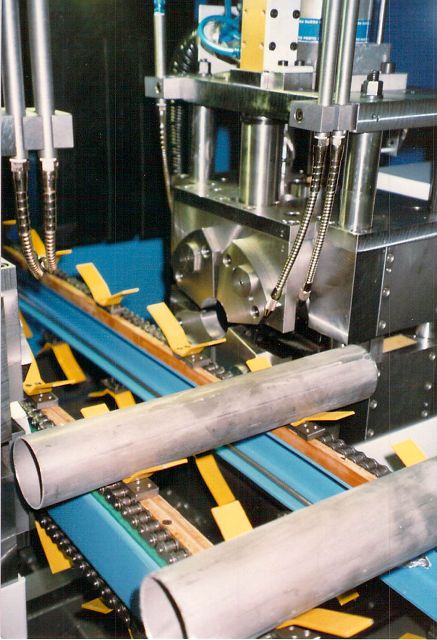 P4: Quick-change clamping system to clamp the pipes centrically can. The pipes are as final stone drill.
The WIAP DM2 ZM is a flatbed CNC lathe. She has a wide bed. The machine base is a welded construction. The bed is

vibration relaxed

and then filled with the filler WIAP and compacted by vibration, in accordance with the Patent of WIAP Dimension of the guides X and Z 30 x 50 mm.
The guides are interchangeable because screwed. For a revision after 20 years suitable, without the bed must return to the supplier. The hardened guides, about 60 HRC are screwed. The slide guides in the X - and Z - axis are coated with a sliding coating. All axis have an air support so that a) the carriage runs better b) does not reach the dirt under the guides and c) the wear is reduced by the multiple, compared with other guides. Lubrication is designed for short path; ie, sufficient lubrication points.
The machine construction is designed so that it can be transported with minimal disassembly.
Wiap has been a standard supplier program for years. All products will soon be available on the market. This saves the long waiting for spare parts or wear parts.

Delivery dates are short with the Wiap. Mainly because the vibration relaxation MEMV - VSR and the vibration dampening VDSF method is a core piece of a Wiap machine tool. The machine bed can be ready for assembly within 6 weeks.

Ask us, we will be glad to provide you
P5: Acceptance of the machine, which is now supplied to the end customer.
P6: Everything is quickly changeable. On both sides, the tube is rotated plan and on one side there is an agreement with a nose where a part is soldered on. The tolerance is small.
P7: Acceptance of the machine.
P8: Machine rear view. The whole structure of the machine is based on the system of WIAP DM machine series with 4 guide - tracks.