Protocol of MEMV process at 110 tons component Protokoll des MEMV Prozesses
<![if !vml]>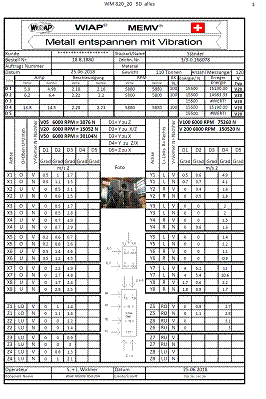 <![endif]>
Figure 11: These data fields are recorded with up to 240 measurements per component and logged
<![if !vml]>
<![endif]>
Figure 12: This intermediate zone calculates the G shift per axis and zone
<![if !vml]>
<![endif]>
Figure 13: This is the rest evaluation - total of the 3 axes. Here, the G shift can be read between before and after.
<![if !vml]>
<![endif]>
Figure 14: This protocol is the 1 G probe, which measures in the major axis, which are excited in all directions and all before and after recorded values, calculates the displacement
Sven Widmer run and Jim Widmer. Photo Sven and Jim Widmer. 06/28/2018
<![if !vml]>
<![endif]>
Figure 15: 60 tons component relax while MEMV, Sven Widmer
<![if !vml]>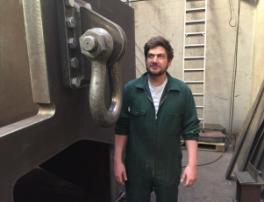 <![endif]>
Figure 16: Sven Widmer next to the 60 tons component
Reporting Iris / HP Widmer / Aliona
07/02/2018
Statement:
Patented process from Switzerland
Metal relax with vibration MEMV® is a patented method of WIAP AG, Dulliken / CH. The "Metal relax with vibration" can be used as an extension to stress relieving or even replace these energy-intensive technology in many cases. Purpose, stresses and distortion in components - for example due to welding operations - compensate. With their latest MEMV® technology, the Swiss specialists extend the decades common methods VSR. When "VSR vibration", a vibrator located at a specific position of the component and stimulates exactly one direction to reduce tensions. A new VS-vibrator for horizontal and vertical excitation in all three axis directions was filed in 2014 in Switzerland and 2015 in Germany for patent. He is, among other things particularly, to encourage all axial directions simultaneously during a welding operation. This allows significantly better results achieved in vibration welding, among others. In the component size, there are no limits for the MEMV® process. It can components up to 200 t and more by using the vibration technology are relaxed. During stress these limits are reached more quickly, since only the transport already is a major challenge to the annealing furnace of such a component. Not infrequently, the components are processed at the supplier, consuming provided with a measuring protocol and subsequently transported to the mechanical engineer on a highly accurate machine. When commissioning is this then undesirable changes in the dimensions fixed, for example, caused by transport. Such problems can be overcome - often enough even a 40-minute MEMV®- treatment. If a component composite after machining be supplied pre-painted, to delay problems cannot be solved with an annealing furnace in most cases. Here, too MEMV® may be the drug of choice - it burns no color and the components do not have to be dismantled. In the automotive industry, for example, numerous vehicles stand in the assembly are required, where welding operations were carried out. Align or glow comes here hardly considered. Instead, use numerous customers within the automotive industry, the vibration technology. Page 2 of 2 WIAP AG offers different models, such as V5 for components to 5 t, V20 (20 t) or V50 for up to 50 t workpiece mass. Currently, the Swiss specialists design a CNC controlled MEMV® expansion device, can be excited in a few minutes with all axis directions. Thanks to the new MEMV® process today can be used numerous ways that facilitate the use of this cost-saving technology crucial.
End report WM_877b_SchwerlastBauteile
hpw 07_2018